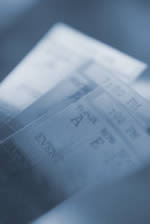 The Box Office is open
Wednesdays from 12:30 pm
to 5:30 pm
&
Three hours prior to any ticketed event at the Auditorium


---
IMPORTANT TIPS FOR PURCHASING TICKETS ONLINE!
Auditorium's Box Office system is now enhanced with the power of Ticketmaster. Visit www.tbca.com and click on the "Tickets" or "Buy Tickets" tabs to purchase your tickets. This will take you directly to the offical Ticketmaster site to complete your purchase without any risk of landing on the wrong site.
VERY IMPORTANT: When purchasing tickets, always ensure that the web address in your browser window is either the www.tbca.com or www.ticketmaster.ca websites.

There are many unauthorized resellers online who charge very large premiums, and often in different currencies, to resell tickets to you. Shows in the Auditorium are only ever sold in Canadian Funds. The Community Auditorium and Ticketmaster are extremely limited in the support that they can provide for tickets purchased through unauthorized resellers.

IF YOU DON'T HAVE A PHONE, YOU CAN STILL ORDER YOUR TICKETS FROM A COMPUTER. When you place your order, you will be emailed a receipt and a link to the tickets. You can then either transfer the tickets to a friend/relative with a phone who may be coming to the show with you, or you can bring your receipt down to the Box Office, along with photo ID, any Wednesday between 12:30 pm and 5:30 pm to have your tickets printed. The Box Office also opens three hours prior to any ticketed show, and is happy to assist as needed at that time as well.
When purchasing from a phone or mobile device, the screen defaults to "Best Available" seating. If you would like to pick your own seats from the seating map, click on the "Switch to Map" button on the top left-hand part of the page.
ALL SALES ARE FINAL. THERE ARE NO REFUNDS OR EXCHANGES through the Auditorium Box Office, but often tickets can be legitimately resold through your Ticketmaster app (subject to individual show allowing tickets to be resold). For support with reselling tickets visit: Reselling Tickets With Ticketmaster
Advertised ticket prices are subject to handling charges. Handling charges may vary from show to show, and the method in which they are ordered.
If you don't receive an email with your receipt, be sure to check your email junk folder to ensure that it isn't there.
We are not responsible for issues with connecting to our ticketing system for ticket sales. Every effort is made to ensure that customers will be able to connect to our online ticketing system. However, due to issues with many different brands and versions of virus protection, firewalls, routers, etc., we are not responsible for issues that arise from your computer or mobile device not being able to properly connect to our ticketing system to complete your purchase.
For help with problems or concerns, feel free to visit us in-person on Wednesdays between 12:30 pm and 5:30 pm, in the three hour window prior to any ticketed show, or visit: Ticketmaster Customer Service
The TBCA/Ticketmaster reserves the right to refuse or cancel sales or ticket pick-ups if incorrect or false information is provided.
Patrons exhibiting physical violence, hostile or threatening behavior or language (either in-person or through email/text or phone) may have service refused, their orders cancelled, be asked to leave the premises, or be removed from any concert
The Thunder Bay Community Auditorium is committed to maintaining a safe and positive atmosphere, and adheres to the City of Thunder Bay's Zero Tolerance for Violence policies.
---
Purchasing Tickets
In Person
In-Person
The Auditorium Box Office is open on Wednesdays from 12:30 pm - 5:30 pm, or three hours prior to any ticketed event taking place at the Auditorium. The Auditorium is located at 1 Paul Shaffer Drive in Thunder Bay, Ontario.
Onl
Customer Support

Visit the Box Office in-person on Wednesdays from 12:30 pm - 5:30 pm. We are also open three hours prior to any ticketed event taking place at the Auditorium. Click the link below for online support:
---
Accessible Seating
The TBCA is committed to providing and exceptional experience for all patrons and is pleased to offer a limited number of accessible seats throughout the venue.
Accessible locations are available on both sides of the Orchestra level (HL 1, 2, 3, 4) and at the back of the Orchestra level in row HA. You can reference our seating chart here.
When available, accessible seats may be purchased online. Up to two (2) seats may be purchased to accommodate the accessible needs patron, support person and/or guests.
---
Discounts
Discounts are not necessarily offered on all shows. However, when a discount is offered, the following applies:
Senior admission applies to anyone 60 years of age and up.
Student admission applies to any full time student (high school, university, college). Valid student ID must be presented to the ushers for admission to the show.
Child admission applies to anyone 12 years of age and under unless otherwise specified.
Infants 12 months and under will not require a ticket to performances.
No double discounts.
From time to time, other discounts may be offered. As the Box Office for more details.

Gift Certificates
Gift certificates can be purchased at: Ticketmaster Gift Card
For Thunder Bay Community Auditorium Gift Certificates purchased prior to March 2020, please email boxoffice@tbca.com for more information. Please include your name and a valid phone number that we can reach you at.

Regarding Third Party Tickets…
Issues with third party tickets, or tickets purchased through other online ticket resellers can seldom be resolved by the Thunder Bay Community Auditorium.
When purchasing tickets online, be sure that the address in your browser starts with www.tbca.com or www.ticketmaster.ca There are a number of third party resellers who are also selling tickets to Community Auditorium events, including the Thunder Bay Blues Festival. Often, these resellers are charging a premium to purchase tickets through their sites, and the will often charge in different curriencies.