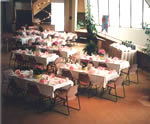 Hold Your Next Reception at TBCA
Are you looking for a unique location for your next office party, annual meeting, client appreciation night, or even a birthday party or reception? Think of the Thunder Bay Community Auditorium & the possibilities are endless! Why not bring a group to see a show, and before the show, during intermission, or after the show treat your group to a private reception in one of our lobby areas. The main lobby can accommodate 300, mezzanine lobby 200, balcony lobby 100. Full bar service and washroom facilities are available on the main and mezzanine levels only. Portable bar service available on balcony. You could even utilize the Auditorium for your company's next annual meeting. Rent the Auditorium for your next corporate announcement, then host your employees and guests to a reception. Our Auditorium can seat up to 1505 people.
---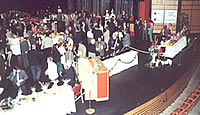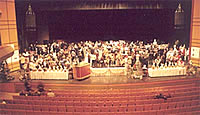 A Unique Reception Facility
For a unique experience why not rent the Auditorium's stage for your event. Dinner seating will accommodate up to 250, while up to 400 guests can attend a stand-up reception. The stage has been used for dinner/dances, wedding receptions, bridge tournaments, corporate lunches, our annual Wine Tasting Affair, and a host of others. Full portable bar service is available on stage.
The Auditorium's staff will be happy to assist you with your event planning. We offer complete bar service, catering recommendations, set-up of your every decorating idea, and much more.
For information about renting our lobby or stage for your event please contact our General Manager, Trevor Hurtig, at 807-343-2313, or email trevor@tbca.com