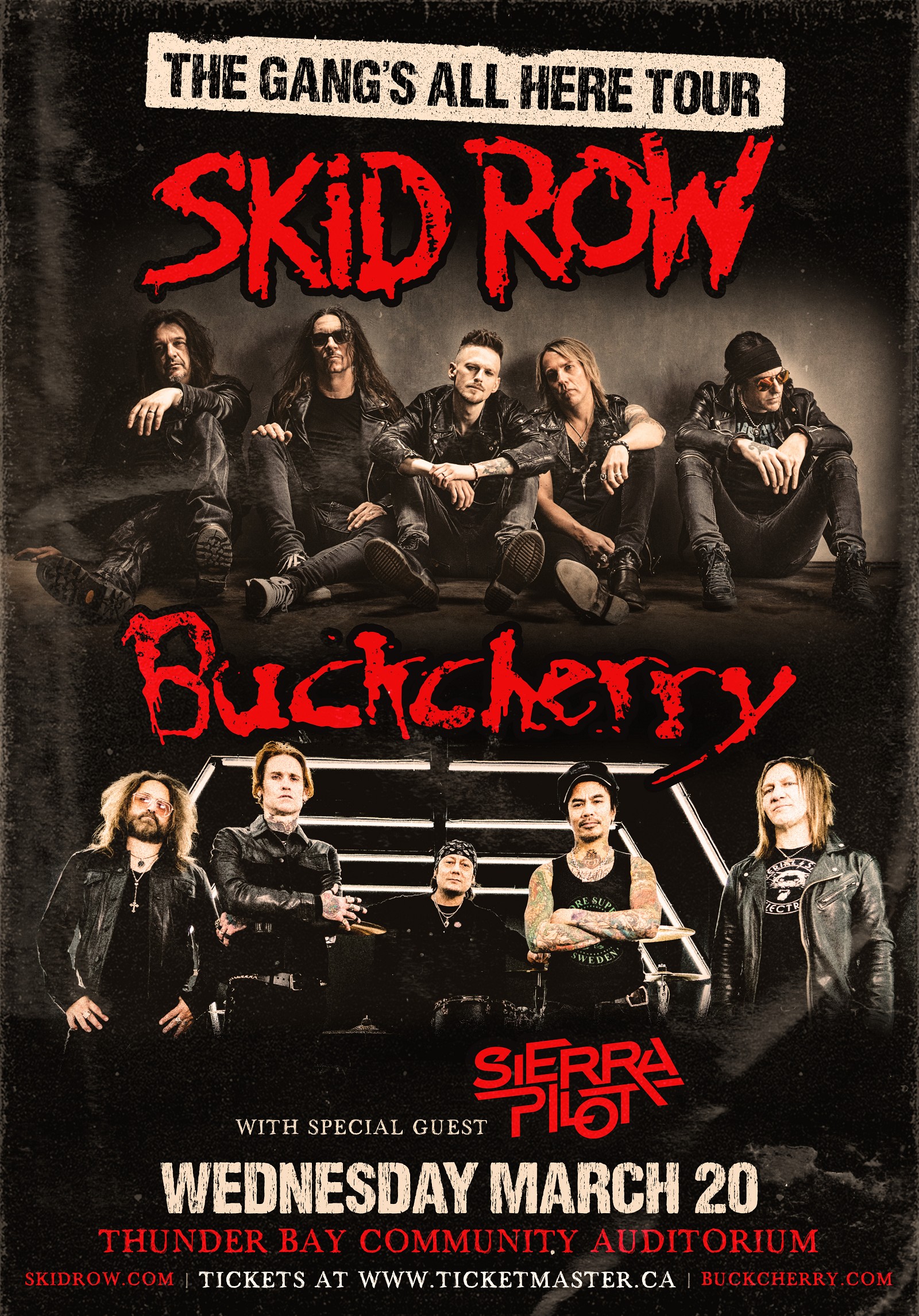 On-sale
Friday, April 28, 2023
Loge Seats On-sale
Friday, February 16 @ 10:00 AM
Skid Row and Buckcherry are excited to announce that due to multiple sold-out shows and high demand from fans around the country – they are adding two more legs to their "The Gang's All Here" co-headline tour, including a date at your Thunder Bay Community Auditorium with special guests Sierra Pilot. The first leg in Spring of 2023 wrapped with most dates selling out including Tampa Bay, Atlanta, Myrtle Beach and Huntsville. The 2nd leg, which starts in late August, is tracking towards multiple sell-outs across the board. Skid Row and Buckcherry are now thrilled to take their tour even further into the year with twenty-two additional shows along the west coast and across the border into Canada. "The Gang's All Here Tour" will also be making a stop at the Fonda Theatre in Los Angeles on Saturday, Dec 9th; this will mark Skid Row's first live appearance in Los Angeles in a decade.
Skid Row continues to be a major force in the hard rock music scene. This summer, they will be performing all over the world, including South America, Australia, Japan, and major European festivals. They will also be performing with KISS in arenas on their Europe tour. Last year, the band released their sixth studio album, The Gang's All Here, which was produced by Grammy Award-winning producer Nick Raskulinecz. The album reached the top 20 chart positions in nine countries worldwide, further solidifying the band's status as one of the top hard rock acts.
This past year has also been a momentous one for Buckcherry, after completing their 238-show tour in support of their most 2021 album, Hellbound. The guys have even more to come following the announce of their 10th studio album, Vol. 10, produced by Marti Frederiksen. Their latest single off the 11-song LP, "Let's Get Wild" is out now. Fans can listen to the single HERE and stay tuned for the full release of Vol. 10 on June 2, 2023. Pre-order and Pre-save NOW!