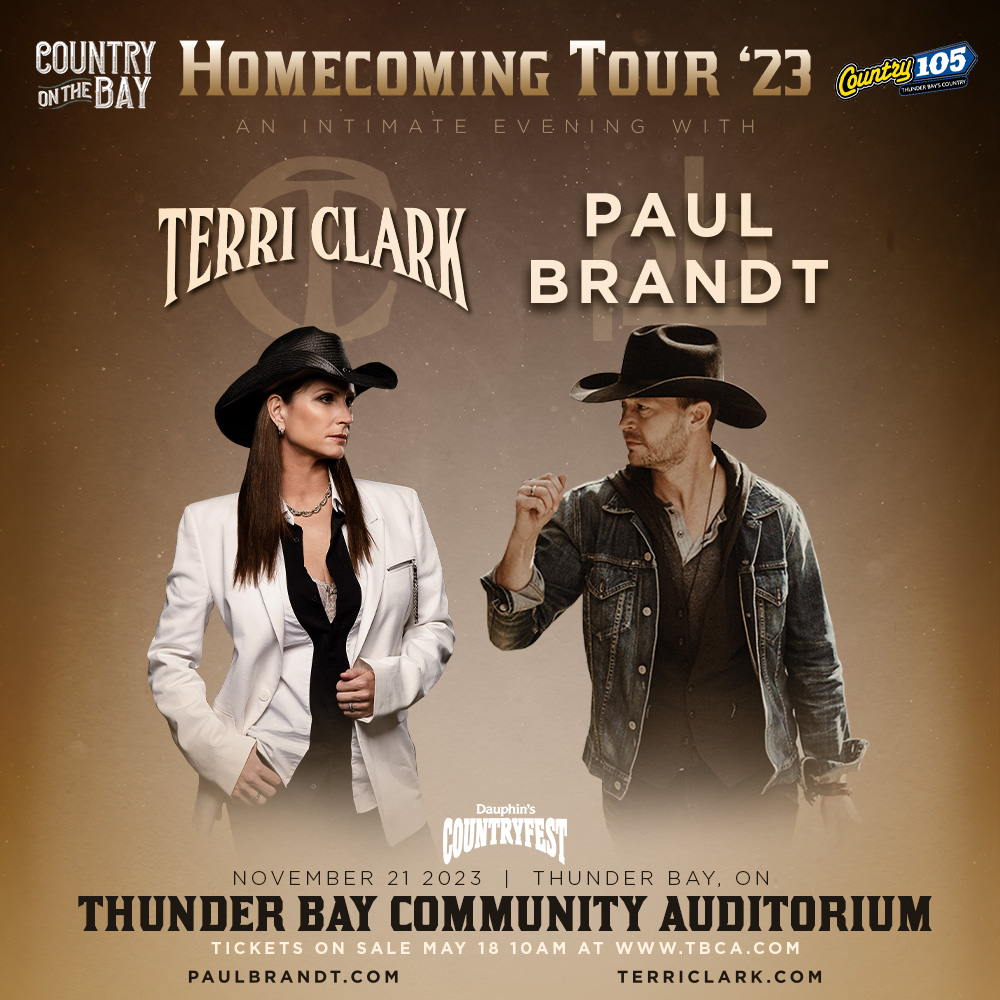 On-sale
Thursday, May 18, 2023
Loge Seats On-sale
Friday, October 20 @ 10:00 AM
From humble beginnings playing for tips at Tootsie's Orchid Lounge in Nashville to holding the honor of being the only Canadian female member of the Grand Ole Opry, Medicine Hat's Terri Clark has solidified her place in the history books of country music. The multi-JUNO Award winner boasts over 5 million albums sold, three RIAA Platinum and two RIAA Gold-certified albums, Canadian Gold, Platinum, Double Platinum, and Triple Platinum-certified albums, thirteen Top Ten singles including six number ones in Canada and the U.S., 19 CCMA Awards, a 2018 induction into the Canadian Country Music Hall of Fame, and multiple ACM and CMA 'Female Vocalist of the Year' Award nominations. Clark has performed her hit singles like "Better Things To Do," "Poor Poor Pitiful Me," "Girls Lie Too," "Northern Girl," and "I Just Wanna Be Mad," to sold out audiences on both sides of the border, headlining her own shows and touring with megastars like Brad Paisley and Brooks & Dunn. This spring, Clark is set to hit the road again with the legendary Reba McEntire, continuing to captivate audiences as she takes command of the iconic stages of Madison Square Garden, The Hollywood Bowl and more. Clark also hosts the internationally syndicated, CMA and ACM Award nominated radio show, Country Gold with Terri Clark, which can be heard on radio stations across the USA and Canada.
Paul Brandt is the most awarded male Canadian country artist in history.
His 1996 debut RIAA certified Gold album Calm Before the Storm went on to sell one million albums internationally, propelled by the #1 single and wedding classic "I Do". Stateside, his #5 and #1 charting songs "My Heart Has A History", and "I Do" were the first to chart by a male Canadian Country artist on the US Billboard Top 20 since 1976.
Throughout his remarkable career, Paul has always focused on using his celebrity to help by shining a light on the lives of those less fortunate and has encouraged others to do the same. He has traveled extensively to developing countries around the world to raise awareness for various humanitarian aid organizations.
His 12 career albums have spawned hit singles, multiple Album of the Year awards, gold, platinum, and multi-platinum performances. According to Nielsen BDS in 2020, of the Top 25 Canadian Country songs, 6 were released by Paul Brandt, and his song "My Heart Has a History" is the most played Canadian Country song since the chart began. Paul is also the most played Canadian Country Artist on Country Radio in history (Nielsen BDS). He has had 27 top ten songs at Canadian Radio. His song "For You" (Brandt/Rosen) was selected to promote the 2002 major motion picture We Were Soldiers, and was performed by Dave Matthews and Johnny Cash. In 2015, Canadian Independent Music Association celebrated Paul's reaching "Road Gold Status" as a top headliner and major box office draw in Canada, and his EP "Frontier" was nominated for Album of the Year at The 2016 Juno Awards. The hit single "I'm An Open Road" from that collection is certified Gold.
In 2017, Paul Brandt was inducted into the Canadian Country Music Hall of Fame & Western Canadian Country Music Hall of Fame.
His 2019 Canadian "The Journey Tour" featured his most recent radio singles "All About Her" (Top 10 Canadian Country Radio) and "Bittersweet" (featuring Lindsay Ell) continue to speak to Brandt's enduring impact and influence on country music audiences and industry as he played arenas across Canada. During the 2019 Canadian Country Music Awards, Paul was honoured with the Slaight Music Humanitarian of the Year Award for his accomplishments with his "Not In My City" (www.notinmycity.ca) movement, which seeks to end human trafficking with a focus on preventing childhood sexual exploitation. Recognizing his dedication to ending human trafficking and child sexual exploitation, in November 2019, Elder Leonard Bastien honoured Paul with a Blackfoot name: Buffalo Bull Shield. Over 2020-2022, Paul has been honoured to chair the Government of Alberta's Human Trafficking Task Force, another first for a Country Musician in Canada.
As a recipient of the Queen's Diamond Jubilee award and numerous other national and regional humanitarian nods, Paul is committed to serving those in need through various charitable endeavours including his Buckspring Foundation. A proud champion of The Great Trail, Paul is dedicated to creating and supporting spaces for respectful discussion and fostering meaningful community through his artistic platform.
Paul always strives to surprise and delight with his art and prefers to take the road less traveled. With a passion for story and community, Paul enjoys using his celebrity platform to engage and connect with people in a deep and meaningful way.
When he's not creating what he calls "stuff the world needs", he has been known to take on projects to help others do the same. He served as Mount Royal University's "Storyteller in Residence" at the Bissett School of Business, where he worked with students to create business and social enterprise projects utilizing the Paul Brandt Brand. In 2019, Paul began working with students at the Southern Alberta Institute of Technology (SAIT), sharing his celebrity platform and inviting students to join him on his next creative project. He is currently writing and working on a new music project.
Paul lives with his wife Liz and their two children on The Buckspring Ranch in the foothills of Alberta's Rocky Mountains.