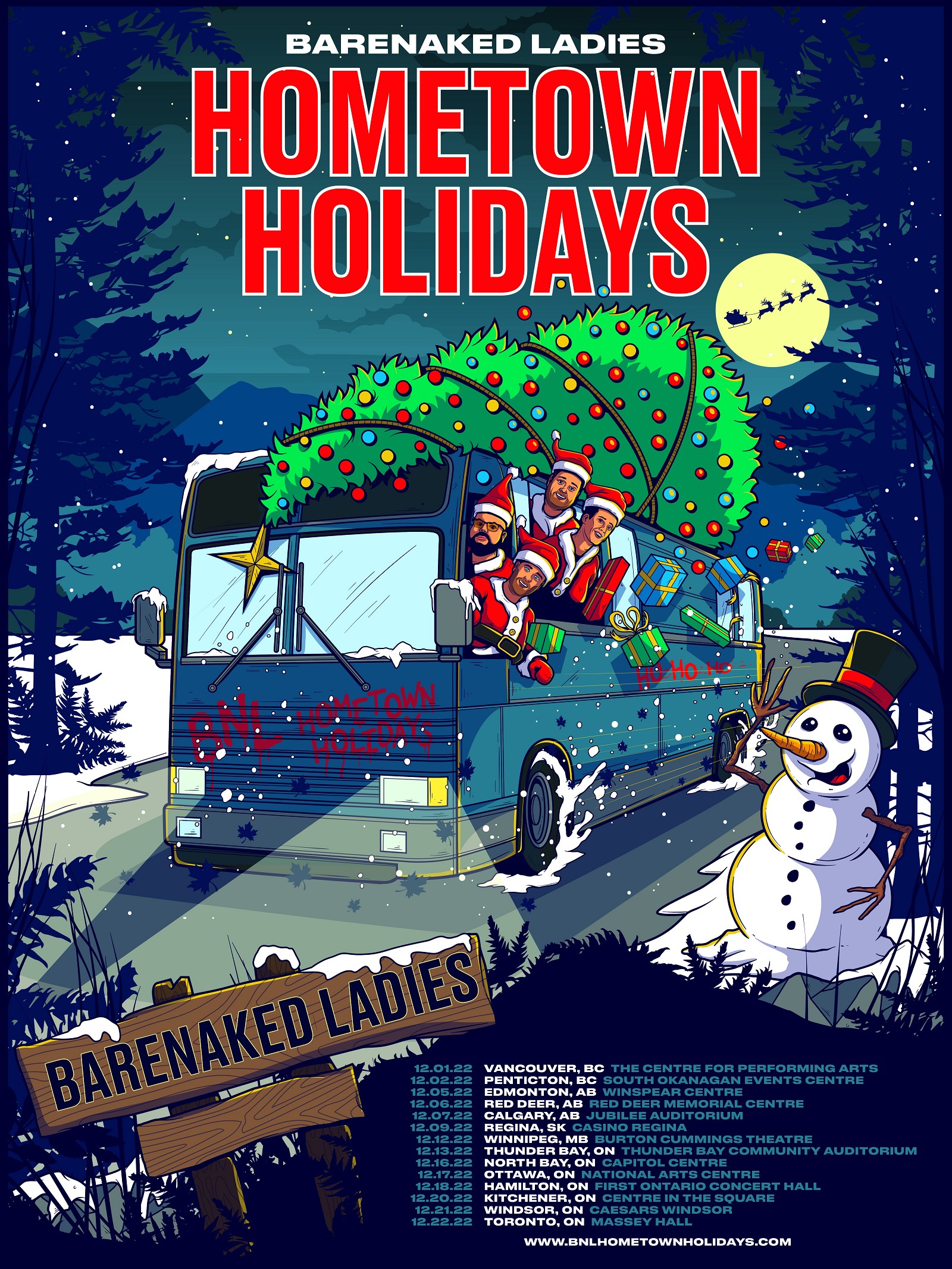 On-sale
Thursday, September 29, 2022
Loge Seats On-sale
Friday, November 11 @ 10:00 am
Multi-platinum band Barenaked Ladies announce they are taking
Hometown Holidays with Barenaked Ladies on the road across Canada. The tour kicks off in Vancouver on
December 1, 2022 and wraps up at Toronto's legendary Massey Hall on December 22, 2022. BNL will perform
holiday fan favourites from the Barenaked for the Holidays album, as well as a few other chestnuts and surprises.
These special performances offer fans a rare opportunity to celebrate the season with Canada's favourite foursome
amongst family and friends, many coming together for the first time in three years. For tickets and more
information, visit www.bnlhometownholidays.com
"We're bringing Barenaked Holiday Cheer to YOUR Hometown!", says BNL's Ed Robertson. "It's been a couple of
long, cold, lonely winters, so let's have some fun!"
Hometown Holidays took over Toronto's CAA Theatre last December for a multiple-date residency. The seed was
planted and many BNL fans across Canada hoped the band would bring the holiday cheer to their hometowns for
the holidays. Featuring holiday sing-along classics and BNL's incredible camaraderie and musicianship, Hometown
Holidays is sure to be a memorable and festive event for fans of all ages.
In 2020, BNL produced a special holiday live stream featuring performances and sketch comedy with a nod to our
collective favourite variety shows from holidays past. Watch BNL perform "Green Christmas" from that 2020 A
Very Virtual Christmas special here.
Tickets go on-sale on Thursday, September 29, at 10am local time, with a presale starting at 10 am on Wednesday, September 28, at www.ticketmaster.ca The presale code is: Hometown
Barenaked Ladies recently wrapped up the 6th edition of the popular "Last Summer on Earth" tour. The 36-date
North American tour featured some of BNL's friends and favourite bands Gin Blossoms, Toad the Wet Sprocket,
with Kim Mitchell joining the bill on Budweiser stage in the band's hometown of Toronto. The encore culminated in a
memorable 'supergroup' performance by BNL and members of all 3 supporting bands, performing the hit song
"Handle With Care" from Traveling Wilburys.