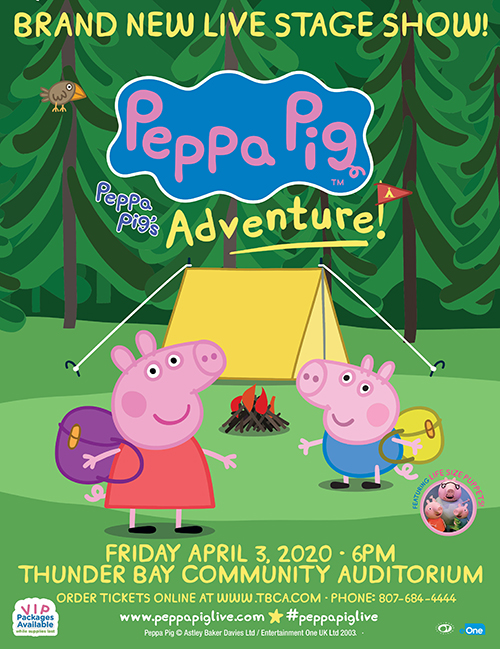 On-sale
Friday, November 22, 2019 at 10:00am - Online only
11:30am - In person/phone
Loge Seats On-sale
Wednesday, February 5, 2020 at 11:30am
In Peppa Pig's Adventure!, Peppa Pig gets ready to go on an exciting camping trip to the woods with George and her school friends, including Pedro Pony, Suzy Sheep and Gerald Giraffe. With lunchboxes packed and Daddy Pig driving the bus, Peppa and friends are excited about their outdoor adventure, full of games, laughter and live music. The happy campers soon settle down to sleep and listen to the gentle pitter-patter of rain. Safe and warm inside their tents, the excited group can look forward to morning time, when there will be lots of muddy puddles to jump and play in.
The live stage show recently celebrated its 400th performance and has sold more than 600,000 tickets to date. The wildly adored brand for preschoolers and their parents reached a new level of popularity this summer with the release of Peppa's first album and the internet buzzed with a series of Peppa Pig memes. Celebrities from Nicky Hilton, Jimmy Fallon, Jimmy Kimmel and Stephen Colbert to rappers Lil Nas X and Iggy Azalea, and even Princess Charlotte are among die-hard fans.
Peppa Pig Live! is based on Entertainment One's (eOne) top-rated animated series that airs daily on Nick Jr.
Entertainment One Ltd. (LSE: ETO) is a global independent studio that specialises in the development, acquisition, production, financing, distribution and sales of entertainment content. The Company's diversified expertise spans across film, television and music production and sales; family programming, merchandising and licensing; digital content; and live entertainment. Through its global reach and expansive scale, powered by deep local market knowledge, the Company delivers the best content to the world.
Entertainment One's robust network includes international feature film distribution company Sierra/Affinity; Amblin Partners with DreamWorks Studios, Participant Media, and Reliance Entertainment; Makeready with Brad Weston; unscripted television production companies Whizz Kid Entertainment, Renegade 83, Daisybeck and Blackfin; live entertainment leaders Round Room Live; world-class music labels Dualtone Music Group and Last Gang; innovative music platform Audio Network; and award-winning emerging content and technology studio Secret Location.
VIP - Peppa Pig's Adventure Party Pass
- One (1) premium seat in the first ten (10) rows of the venue to see Peppa Pig's Adventure
- Exclusive access to the Peppa Pig Campfire Party after the show
- Campsite snack and beverages
- Meet and greet photo opportunity with the Peppa Pig cast by the campfire
- One (1) exclusive Peppa Pig merchandise gift
- On-site party concierge
Sponsored By