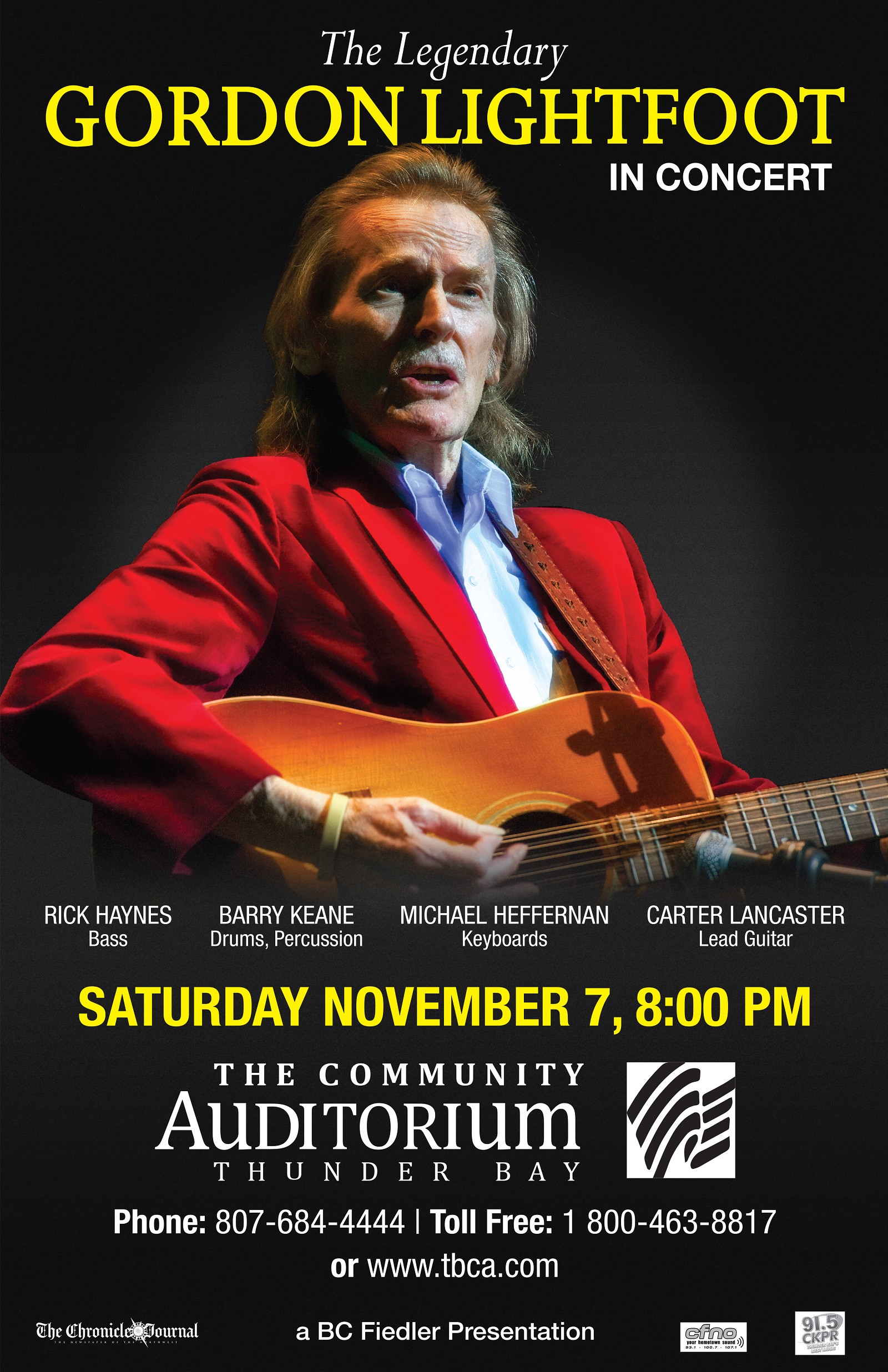 On-sale
Friday, February 21, 2020 at 11:30am
Gordon Lightfoot has often been credited as the finest singer-songwriter from Canada. His career expands across several decades and has spawned a staggering amount of albums. He has crossed over into multiple genres throughout his career, but is best known for helping set the template for contemporary folk-pop.
Lightfoot was born in Orillia, Ontario, Canada on 17 November 1938 to a manager of a dry cleaning firm. Gordon displayed musical talent as early as the fourth grade and initially focused on his skill as a vocalist. He took on the task of a choir boy at Orillia's St. Paul's United Church and showcased his soprano voice on various radio stations, local operettas and festivals. Lightfoot moved on to piano and drums in his teenage years and eventually made the guitar his primary instrument. He understood both standard pop and classical styles and used this advantage in both his solo performances and with his high school folk band, the Teen Timers.
In 1958 Lightfoot embarked on a journey to Hollywood, California to study Jazz composition at Westlake College of Music. While Lightfoot was in California he wrote jingles for television advertisement, but quickly got tired of this job and returned back to Canada to direct his efforts as a folk/country musician.
Before spring-boarding into his career as a solo artist, Lightfoot joined an in-house vocal group known as the Swinging Eight and subsequently fractured into a 2 piece with fellow singer songwriter Terry Whalen to form the Two Tones. By 1963 Lightfoot moved to Great Britain and began performing under his own name. During this period he hosted "The Country & Western Show" and had a certified Canadian hit with his single "Remember Me (I'm the One)". After hearing the work of Bob Dylan (who is a mutual friend and admirer of Lightfoot) he made a conscious effort to gear his material in a more introspective direction.
Ian and Sylvia Tyson were enamored by Lightfoot's new approach and acted as a gateway to his management contract with Albert Grossman. In addition to Ian and Sylvia covering Lightfoot's songs, other artists like Peter, Paul, and Mary, and Marty Robbins also included some of his material in their setlist.
By the mid to late 60s Lightfoot started releasing studio albums at a consistent and relatively fast rate. He put out a total of 5 albums between 1966 and 1969 including: "Lightfoot!", "The Way I Feel", "Did She Mention My Name", Back Here on Earth", and the live recording "Sunday Concert". All these albums were highly esteemed and have since gone on to achieve classic status in the folk cannon. Lightfoot was an absolute sensation in his native homeland; however, he only managed to assume a cult following in America. Much of his music became popular in the US via artists like Johnny Cash, Bob Marley, and Elvis Presley.
The 70s saw Lightfoot's departure from United Artists and his assimilation on to Reprise. Through Reprise he released his slick sounding 6th album "Sit Down Young Stranger", which contained the single "If You Could Read My Mind" his biggest hit at the time. His follow up "Summer Side of Life" came out in 1971 and both "Don Quixote" and "Old Dan's Records" followed in 1972. Lightfoot's next album "Sundown" did not come out until 1974. During this time Lightfoot was diagnosed with Bell's Palsy and consequently had to let up on his touring and recording schedule. Despite this setback Lightfoot managed to output some of his most complex and commercially viable material such as "Summertime Dream", "Cold on the Shoulder", and "Endless Wire".
Though Lightfoot released a substantial amount of material in the 80s his work was becoming more overlooked in the US and his time was displaced among charity organizations and his involvement in acting. Lightfoot returned with some of his strongest material in the 90s with "Waiting for You" (1993) and "A Painter Passing Through"; however, his career was abruptly put on hold when he suffered an abdominal aortic aneurysm that put him in a coma for 6 weeks. Before his decline in health Lightfoot had penned material that would eventually surface on his 2004 album "Harmony".
Sponsored By